How to Identify an LHR Video Card from Nvidia GeForce RTX 3000 Series
Despite the hype around mining equipment, manufacturers of video cards do not enjoy any profits. They usually sell their products at a fixed price while scalpers make fortunes using a large markup due to increased demand in the crypto community. Nvidia decided to address the issue using an untrivial yet expected method: by reducing mining efficiency of their cards.
GeForce RTX 3070 and GeForce RTX 3080 Ti come to the shelves with the limiter in place while models RTX 3060 Ti, 3070, and 3080 have a limiter included if produced after the 22th week of 2021. The new limiting system was called Light Hash Rate or LHR. Note that the previous limiter was successfully bypassed by the community so this one is much more robust. Separating LHR cards from non-LHR is quite tricky: most cards do not have any special markings or a different price. Identifying an LHR card is up to you.
Method 1. It's all in the name.
Some videocards come with a limiter by default. You don't even have to check. RTX 3090, 3060, 3070 Ti, and 3080 Ti are equipped with LHR regardless of what the store's nomenclature tells you. These models were designed with interests of gamers in mind.
RTX 3060 Ti, 3070, and 3080 could be produced before May 1, 2021, meaning that they avoided the latest revision and do not have LHR. Usually, limited HR cards are marked with (LHR). Such devices demonstrate much lower hash rates compared to those without the markings.
Note that the absence of the marking does not guarantee that the device was released before the May revision. You have to confirm it with the date of production. The information may be excluded from the product name on the box.
Method 2. Check the GPU ID.
This method works 100%. To check the GPU ID, you need a special utility. We recommend using CPU-Z or a similar piece of software and use it to find the ID of the chip.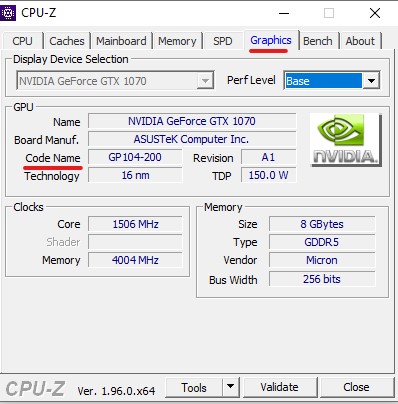 After the analysis, you will see the identifier of the GPU and the revision number. The method guarantees that you identify whether the card has LHR or not. However, you will unlikely be able to use it in the store. On the other hand, when dealing with sellers from e-Bay or Craigslist, you may find a person who will be ready to show you the product before selling.
GPU ID and LHR integration in Nvidia RTX 3000
Videocard 
GPU ID
LHR
Details
RTX 3060
GA106-300
–
Software LHR 
GA106-302
LHR
 
RTX 3060 Ti
GA104-200
–
 
GA104-202
LHR
 
RTX 3070 
GA104-300
–
 
GA104-302
LHR
 
RTX 3070 Ti
GA104-400
LHR
 
RTX 3080
GA102-200
–
 
GA102-202
LHR
 
RTX 3080 Ti
GA102-225
LHR
 
RTX 3090
GA102-300
–
 
Method 3. Full product name.
Any manufacturer follows their own strict naming regimen. Companies that produce PC components are usually even stricter in terms of naming compared to other companies.
The full name of the product can be found on the box while most online stores put full names of products in the catalog. After the LHR integration, new markings started appearing in names of video cards from different manufacturers:
V2 — used by ASUS;
Rev. 2.0 — used by Gigabyte;
LHR is written on boxes with cards by MSI or Zotac;
V1 — May revision identifier on video cards by Palit and Gainward;
KL — limiter mark on cards by EVGA;
KCK — additional code in the name of cards by KFA2;
H is placed in the end of the name of the card by Inno3D.
Note that a marking on cards by ASUS, Palit, Gainward, and Gigabyte don't necessarily tell you that the card comes with LHR. However, revisions number 2 or 3 signify a much greater chance of LHR being integrated.
Method 4. Check the production date.
The serial number of the card always contains a plethora of information including dates of production indicating the date when a device was produced. Unfortunately, a universal format of serialization does not exist and each manufacturer does what they like.
Remember that all video cards with LHR were produced after May 1, 2021. All cards manufactured before this date come without LHR and can be used for mining efficiently.
How to find the date of production in the serial number of Nvidia cards
For cards by ASUS (an example): M2N0CX00Y276001
The year code goes first (M – 2021, L – 2020), the number of the month goes next (in our case, February (2). Months are marked as follows: from 1 to 9, A – October, B – November, C – December.
For cards by Gigabyte (an example): SN212541020415
The year code goes first (21), then, week (25). In our case, it means July of 2021 meaning after the integration of LHR.
For cards by Palit (an example): BO200154221
Month goes first (O), then, year (20). Month are marked as follows: from 1 to 9, then October, B – November, C – December.
For cards by MSI (an example): 602-V389-143SB2106000014
The date is included in the third information block. Year and month (2106). It's quite simple.
Method 5. You can find out GPU ID without using any software.
The issue is that you need to disassemble the video card and remove the layer of thermal paste (in some cases) to see the marking. This method is not recommended since you will void the guarantee by messing with the device.
In general, we recommend you searching video cards that were manufactured before the 22nd week of 2021. Many local stores may have such devices in stock.